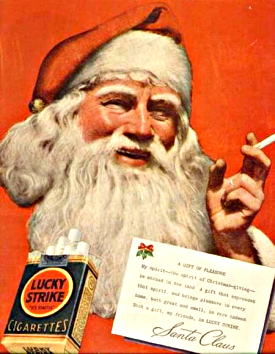 Ho ho ho. Cough.
In a festive tribute to the semester being done, I salute Edward Bernays and all of the monumental campaigns I found awe inspiring upon learning about them in Public Relations. Persuasion is a fascinating thing. I'm sure in the appropriate decade this would have seemed charming.
It seemed fitting, in the spirit of the ghosts of advertising past.
May your holiday season be merry and bright, like the burning love Santa has for the smooth taste of Lucky Strike.